"Beautap beauty application"
- Identity and Logo Usage Guideline

content:
---
Guidelines Overview Logo Variations Logo Color
Variations Color Print Specifications Logo
Use Appropriate/Unauthorized Logo Applications Placement Guidelines/Approval
Process Photography/Internet/Company and Product Name Guidelines
These Guidelines
We are pleased that you have chosen to use Beautap Mobile and WEB Applications and delighted that you wish to use your time and resources to promote our Apps. To help you, Beautap Inc. has created the Brand book, complete with promotion suggestions as well as images, fonts, and advertising templates.
If you find a need for custom marketing that is not addressed in the brand book, we offer these guidelines to assist you in the development of artwork that supports both your business objectives and Beautap branding objectives. Please note also that the Beautap logo may never be used independent of the "Beautap - beauty application" text. Beautap Inc. reserves the right to decline usage of the Beautap name or brand representation in any situation the company deems inappropriate for any reason even if the Beautap logo usage meets these guidelines. Please remember that anything Beautap doesn't expressly approve in writing is considered not approved. Beautap Inc. may also require you to recall and/or reprint any marketing materials that do not meet with Beautap current brand standards.
The "Beautap" Logo and What It Represents
The Beautap brand is a New developing brand. We believe our people and our products form the foundation for our marketing strategy. The uncompromising quality of our products and our focus on making a genuine, personal connection with our users have enabled us to create uplifting experiences that currently define and differentiate us. And this has enabled us to inspire moments of connection that create a brighter outlook for ourselves and our world. That is the brand promise of Beautap, and the heritage entrusted to those who market the brand.
Logo Variations
The primary Beautap logo is composed of the Lotus symbol and the phrase "Beautap – beauty application" The Beautap wordmark is composed of the phrase "Beautap – beauty application" locked up with the Beautap wordmark. It always appears horizontally, and should have a TM symbol (™)
Logo Color Variations
Consistent adherence to the color guidelines will help build visibility and recognition of your association with the brand. Full-Color Logo In the preferred use of the primary Beautap logo, the logo is Black and Rose Stripe and is placed on a white/light-color background.
Full-Color Reverse Logo Use when background color or imagery adversely affects the legibility of the wording. Note that background color or imagery cannot appear through the Beautap logo, nor can the logo be altered in any way including, without limitation, to make it fit any theme, ambiance or external environment. The Beautap logo can only be used as shown here.
Color Print Specifications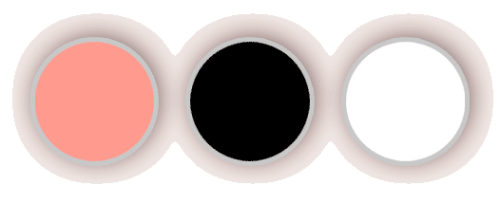 Color Specifications Print the primary Beautap logo in its three correct colors: Beautap Rose, black (#000000) and white (#FFFFFF). (For Beautap Rose, use HTML #ff9E8E Do not use any other color.) No other colors may be substituted. The Beautap logo on any material must visually match HTML # ff9E8E. If you are unable to print in color, or if you are unsure that you can visually match to Beautap Rose, you must print in two-color black and white, or black only on a white background. No other colors may be substituted.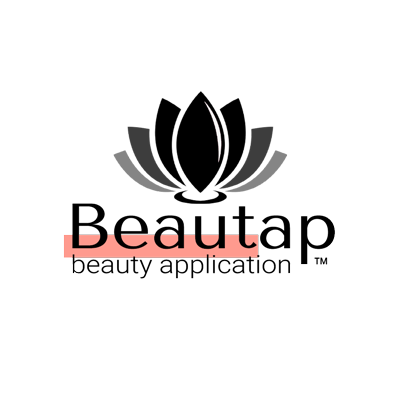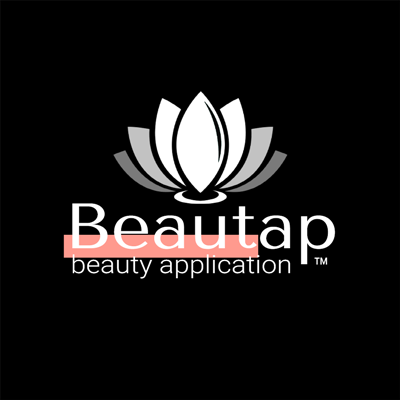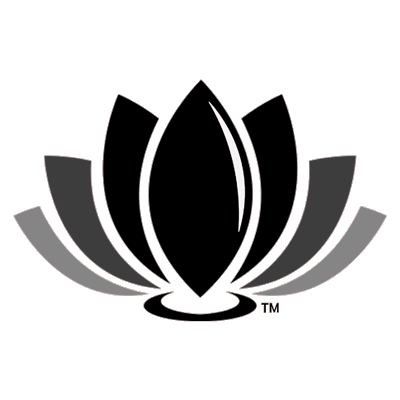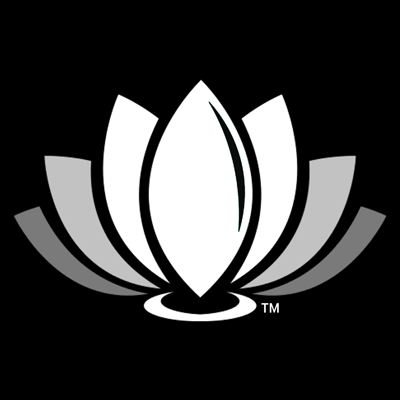 Placement Guidelines
The primary BEAUTAP logo or BEAUTAP wordmark must be presented in conjunction with your operation's own name or logo to be a complete message. However, the BEAUTAP logo or BEAUTAP wordmark must be clearly secondary to your name and branding. Your name or logo identifies the "We" who is using BEAUTAP APPS.
While the primary BEAUTAP logo or BEAUTAP wordmark should never stand alone, it must still hold its own space, apart from your own logo.
The primary BEAUTAP logo or BEAUTAP wordmark must never be incorporated into the design of your operation's logo. Customers approaching your venue must immediately understand that it uses BEAUTAP APPS.
The visual appearance and the balance of branding messages (size, quantity, placement and relative weight) must reinforce your brand name or logo as the primary means of identification. When in doubt about whether your artwork falls within our placement guidelines, ask yourself, "Is my operation's brand/logo most prominent in this representation?" If your answer is "yes," then you are on track! If you answer "no," then you must make some placement or proportion changes to ensure that your brand takes center stage.
Approval Process
Beautap can provide you with electronic files of the primary BEAUTAP logo and BEAUTAP wordmark in several styles and graphic formats. When your artwork is relatively complete, you are ready to submit the piece to Beautap Inc. for approval. Note: If final designs are not submitted for review or are used without our approval, you will be responsible for removing unauthorized materials or correcting any mistakes at your own cost.
The approval process is outlined below:
1. Submit artwork to the Beautap Inc. address in your country.
Beautap Inc.
468 North Camden Dr Suite 200 PMB 97931, Beverly Hills, CA 90210, USA
2. For a review of your project, allow at least five working days from receipt by Beautap. We will let you know of any changes that are needed. If the artwork is approved, we will email, call or fax you with approval. If you do not hear from us within 30 days, assume your artwork has NOT been approved, and that you may not proceed with production. In this case, please email us at This email address is being protected from spambots. You need JavaScript enabled to view it.. 3. Before printing, insert the Beautap approval code into your piece. This code will be provided by Beautap Beautap Inc. and will signify approval. 4. When the piece is finalized, we ask that you provide Beautap with three samples of the finished version for us to keep in our archives. Please send these copies to Beautap Inc. at the appropriate address above.
Photography
Only product photographs provided by Beautap may be used in the marketing of your Beautap Beauty Services Promo. The same policy also applies to video. Please refer to the Beautap.com for these photographs. Should needs arise that are not addressed by this document or the tool kit, email This email address is being protected from spambots. You need JavaScript enabled to view it.
Internet
If you plan to use the primary BEAUTAP logo or BEAUTAP wordmark on your website, please keep in mind that Beautap must approve the size and placement, and any related copy, just as we would a printed piece. Please contact Beautap Inc. Marketing Services for a graphic file of the primary BEAUTAP logo or BEAUTAP wordmark formatted for web use. Correct web logo: Beautap Rose (HTML # ff9E8E), White (HTML FFFFFF or R255 G255 B255), Black (000000 or R0 G0 B0). If you are unable to visually match Rose to HTML # ff9E8E, you must show the BEAUTAP logo in black and white. Minimum size is 200x50 pixels at 72 dpi (the TM will have to be created separately to read clearly). All graphics on the Beautap.com website are property of Beautap Inc. Please do not take logos, photographs, or any other artwork from the Beautap website.
Company and Product Name Guidelines
Any copy using the Beautap name must comply with these basic guidelines and must be approved by Beautap. Beautap never has an apostrophe, even when used in possessive form. When using product names, attach the proper registration symbol ™ to the name at least one time per document when the mark first appears and/or when it is most prominent. To the extent it is necessary to explain your relationship with Beautap Inc, please refer to yourself as an authorized Member of Beautap Community. Include the following copyright language: © 2022 Beautap and the Beautap logo are trademarks or registered trademarks of Beautap Corporation.
Thank You
We realize these guidelines can seem complicated and challenging to follow. And we appreciate the energy you put into protecting the brand you are proud to have in your venue—and the brand we are proud to share with you.